Upcoming Events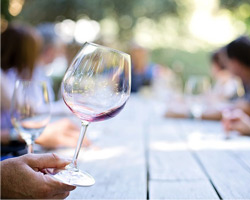 Thursday, February 18th

War Of Wines (South Africa VS Italy)
@
Columbus Centre
Reception: 6:30 pm
The war of the wines is one. The battle lines are drawn. Italy VS South Africa. One night only. Thursday, February 18th.
Amici dell'Enotria and the South African Wine Society have combined forces to bring you a head to head competition of their respective blended wines made with Italianstyle grapes. You alone will be the judge of which gave you the most pleasure.
You might be surprised to know how many Italian varietals are grown and produce great wines in SA. Some producers are experimenting with a block or two of what had previously been regarded as rather 'foreign' cultivars. Such recent introductions include barbera, sangiovese and nebbiolo .
Our next event is a comparison of wines from two countries with similar grape blends. We are interested in learning which country the particular wine comes from in a direct comparison. When tasting, "Do you believe this is from Italy or SA and which do you prefer?"
The wines will be served blind and in random order. Your palate, not your wallet or your heritage, will determine your preference. Oh the horror if your preference is an inexpensive Italian wine. Will you ever live it down?
Once the scores are in, we will have a buffet dinner that is intended to tantalize taste buds. A little more wine will be available with the dinner and dessert. Please join us for an event that promises to be great fun.
Antipasto: Assorted Italian deli meats; grilled zucchini, eggplant and peppers; green and black olives; crostini with assorted toppings olive tapenade, sundried tomato puree, artichoke; oven roasted Italian sausage with lentils; pizza squares; foccaccia bread; marinated mushrooms
Buffet dinner: Salad of mixed lettuces with balsamic vinaigrette; green bean salad with cherry tomato and red onions; penne with tomato sauce; cheese filled manicotti with cream sauce; roast braised veal au jus; grilled chicken breast with mushroom sauce.
The Wines
South Africa
Delheim Chenin Blanc 2014
Exudes a fresh green tinge, with stone fruit and grapefruit dominant on the nose enhanced with subtle savoury and oak nuances. The palate shows restraint with lengthy tannins and sweet fruit contributing to a lingering aftertaste.
Fairview The Goatfather 2013
Sangiovese/barbera/cabernet sauv/nebbiolo
Medium body, a generosity of fruit, subtle oak and soft tannins, nice long, dry aftertaste.
Bouchard Finlayson 2012
Sangiovese/pinot noir/nebbiolo/shiraz/barbera
Showing both power and finesse, it gives way to gentle flavours of black cherry, spice and strawberry.
Joostenberg Bakermat 2003
Merlot/cabernet sauvignon/shiraz
Bold and juicy with plenty of ripe, savoury, dark fruit & mocha flavours.
Italy
TBA
*We will make every effort to accommodate your food allergies or special dietary needs if requested.
When:
 Thursday, February 18th, Reception @ 6:30 pm, Wine Tasting @ 7:00pm
Where:
Columbus Centre, 901 Lawrence Ave W (3 bus stops west of Dufferin).
Price:
$90 Guests
$80 Members
Closing date: Your booking or cancellation must be received by Friday, February 12th. You will be contacted if we are unable to accept your booking.
Your cheque payable to South African Wine Society or Visa credit card information will reserve your place. If we have your credit card information on file, you may book by e-mail to sawsinfo@rogers.com
* Visa charges will appear as Pushka Holdings.
To find more information about the event, including registration, follow this link.
Looking forward to seeing you there!
Note: As a courtesy to other members, please refrain from wearing any scented products, including perfumes, colognes, after shaves or hand lotions.