Upcoming Events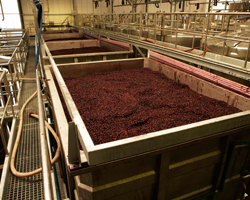 Thursday, March 19th

Something Different @ Earth Indian Restaurant

Reception @ 6:30 pm
Dinner @ 7:00pm
No food is off-limit to wines.
It is a matter of discovery matched with a series of trials and errors to find the prized combination. Asian flavours can be challenging for wine. Indian food takes it to another dimension. Indian food is associated with spices. Dishes are frequently piquant and with complex flavors and aromas. The sequence of dishes is a challenge as is the build up of spice on the palate. It's hard to match the wild and fiery flavors in the food with the delicate ones in wine. It is only experimentation that will lead to answers.
The Indian palate often wants a wine that is earthy and acidic. It adds to the spices and brings them out. The western palate tends to prefer combinations of flavour. Creamy wines coat the palate. Buttery whites combine with the flavours of Indian food quite well. How about something with residual sugar to calm down the spices?
The kinds of wines that pair with Indian food are not necessarily the ones winelovers most want to drink. Serious reds may be too tannic when they're young . Sparkling wines pair excellently with Indian cuisine. Both rosé and sparkling wine might well be the answer we're all looking for. How about a sparkling rosé?
Open your minds and taste buds to discover South African wines that "work" at our March "Something Different" dinner event. It promises to be tasty and interesting.
RECEPTION:
Porcupine Ridge Sauvignon Blanc 2014
PEHLI PESH (Appetizers):
Veggie Samosas (Traditional pastries stuffed with spiced potatoes and green peas)
Veggie Pekoras (Fritters of fresh vegetables)
Chicken Chaat (strips of Tandoori chicken tossed in dressing)
SHORBE (Soup):
Mulligatawny Soup (Classical South Indian lentil soup - vegetarian delight)
MAIN COURSE:
Butter Chicken (Tender cubes of chicken simmered in light cream, tomato and fenugreek)
Lamb Roganjosh (Lamb stewed in gravy of yogurt, onions and spices)
Goanese Prawns (Lamb stewed in gravy of yogurt, onions and spices)
Dal Tarka (Lamb stewed in gravy of yogurt, onions and spices)
Paneer Tikka Masala (Lamb stewed in gravy of yogurt, onions and spices)
All served with naan and Pulao rice
KWV Cathedral Cellars Brut 2009; Newton Johnson Pinot Noir 2012; Avondale Jonty's Ducks Pekin Red 2011
DESSERT:
Ras Malai (cream cheese flat cake soaked in sweet milk garnished with pistachios)
De Krans White Muscadel Jerepigo 2012
*We will make every effort to accommodate your food allergies or special dietary needs if requested.
When:
 6:30 pm, Thursday, March 19th
Where:
Earth Indian Restaurant, 6030 Yonge Street (1½ blocks north of Cummer at Patricia Ave. From the Finch subway bus #60 (Steeles West) and bus #53 (Steeles East) go north on Yonge and stop at Patricia. Also the 97 Yonge North works. Parking at rear off Patricia.)
Price:
$55 Members
$65 Guests
Nonmembers who join the club at the event will receive a credit of $10. This event has a capacity limit.
Your cancellation must be received by Friday, March 13th. Your booking or cancellation will be acknowledged.
Your cheque payable to South African Wine Society or Visa credit card information will reserve your place. If we have your credit card information on file, you may book by e-mail to sawsinfo@rogers.com
* Visa charges will appear as Pushka Holdings.
To find more information about the event, including registration, follow this link.
Looking forward to seeing you there!
Note: As a courtesy to other members, please refrain from wearing any scented products, including perfumes, colognes, after shaves or hand lotions.