Upcoming Events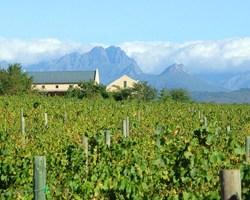 Tuesday, July 14th

Cool climate pinot noirs and chardonnays of the Hemel-en-Aarde Area
with
Anthony Hamilton Russell, proprietor of Hamilton Russell Vineyards
Start @ 6:30 pm
Hamilton Russell Vineyards is located in the beautiful, cool, maritime HemelenAarde Valley appellation, just behind the old fishing village of Hermanus. The estate specializes in producing highly individual, terroir driven pinot noir and chardonnay, which are widely regarded as the best in South Africa and among the best in the New World.
Founder, Tim Hamilton Russell purchased the undeveloped 170 hectare property in 1975, after an exhaustive search for the most southerly site on which to make South Africa's top cool climate wines from a selection of noble varieties. His son Anthony Hamilton Russell , who took over in 1991, purchasing the property in 1994, narrowed the range to pinot noir and chardonnay and registered Hamilton Russell Vineyards as an Estate, committing to work only with grapes from their terroir. Anthony, with winemaker Hannes Storm until 2014, now Emul Ross, and viticulturist Johan Montgomery are completely dedicated to expressing the terroir in their wines.
At our event, Anthony will lead us through a tasting of 14 wines from 7 HemelenAarde area wineries – all pinot noir and chardonnay. You just know that this will be an exciting tasting!
Naturally, we will have a light food offering to go with the wines.
Hemel-en-Aarde Ridge
Domaine Des Dieux
- Chardonnay 2011
- Josephine Pinot Noir 2011
Creation
- Chardonnay 2013
- Pinot Noir 2013
La Vierge
- Jezebelle Chardonnay 2014
- Noir 2012 (Pinot Noir)
Upper Hemel-en-Aarde Valley
Newton Johnson
- Family Vineyard Chardonnay 2013
- Family Vineyard Pinot Noir 2013
Summaridge
- Chardonnay 2012
- Pinot Noir 2012
Hemel-en-Aarde Valley
Bouchard Finlayson
- Missionvale Chardonnay 2013
- Galpin Peak Pinot Noir 2013
Hamilton Russell
- Chardonnay 2013
- Pinot Noir 2013
*We will make every effort to accommodate your food allergies or special dietary needs if requested.
When:
 6:30 pm, Tuesday, July 14th
Where:
The Faculty Club, University of Toronto (41 Willcocks Street, Toronto, Ontario M5S 1C7)
The Spadina streetcar stops at the corner of Willcocks and Spadina.
Price:
$75 Members
$85 Guests
This event has a capacity limit.
Your cancellation must be received by Wednesday, July 8th. Your booking or cancellation will be acknowledged.
Your cheque payable to South African Wine Society or Visa credit card information will reserve your place. If we have your credit card information on file, you may book by e-mail to sawsinfo@rogers.com
* Visa charges will appear as Pushka Holdings.
To find more information about the event, including registration, follow this link.
Looking forward to seeing you there!
Note: As a courtesy to other members, please refrain from wearing any scented products, including perfumes, colognes, after shaves or hand lotions.