Upcoming Events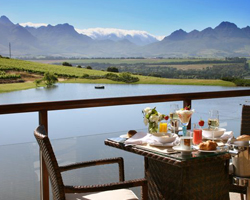 Thursday, February 5th

The War Of Wines @ The Columbus Centre

Reception @ 6:30 pm
Dinner @ 7:00pm
The battle lines are drawn. Italy vs South Africa.
Amici dell'Enotria and the South African Wine Society have combined forces to bring you a head to head competition of their respective wines. You alone will be the judge of which gave you the most pleasure.
To make the competition fair, all wines will be tasted "blind". You will be asked to rank them according to your taste buds. That will give you a Personal Ranking. Then, you and your table companions will add up the results and come up with a Table Ranking. Following that, a Room Ranking will be tabulated. This is not intended to decide "right and wrong". It simply shows whether your tastes are similar or different from that of your companions.
Oh yes, there is one more thing. The wines will be selected in three categories: ranging up to $15, $25 and $35. Remember, the wines will be served blind and in random order. Your palate, not your wallet or your heritage, will determine your ranking. Oh the horror if your preference is an inexpensive Italian wine. Will you ever live it down?
Once the scores are in, we will have a buffet dinner that is intended to tantalize taste buds. A little more wine will be available with the dinner and dessert.
Antipasto
Assorted Italian deli meats; grilled zucchini, eggplant and peppers; green and black olives; crostini with assorted toppings - olive tapenade, sundried tomato puree, artichoke; oven roasted Italian sausage with lentils; pizza squares; foccaccia bread; marinated mushrooms
Buffet Dinner
Salad of mixed lettuces with balsamic vinaigrette; green bean salad with cherry tomato and red onions; penne with tomato sauce; cheese filled manicotti with cream sauce; roast braised veal au jus; grilled chicken breast with mushroom sauce; fresh fruit display; coffee\tea\mineral water
Please join us for an event that promises to be great fun.
*We will make every effort to accommodate your food allergies or special dietary needs if requested.
When:
 6:30 pm, Thursday, February 5th
Where:
Columbus Centre, 901 Lawrence Ave W (3 bus stops west of Dufferin)
Price:
$80 Members
$90 Guests
Nonmembers who join the club at the event will receive a credit of $10. This event has a capacity limit.
Your cancellation must be received by Friday, January 30th. Your booking or cancellation will be acknowledged.
Your cheque payable to South African Wine Society or Visa credit card information will reserve your place. If we have your credit card information on file, you may book by e-mail to sawsinfo@rogers.com
* Visa charges will appear as Pushka Holdings.
To find more information about the event, including registration, follow this link.
Looking forward to seeing you there!
Note: As a courtesy to other members, please refrain from wearing any scented products, including perfumes, colognes, after shaves or hand lotions.